16 November and Wellington's annual Christmas Parade. Sophie and I arrived in town early and delighted in walking along the roads without having to stop for the traffic. We whiled away the time in the book store reading 'Mr Men' books and Christmas stories. Then we took a ride up the cable car – but seeing the crowds coming down in the opposite direction for the parade we stayed on and kept our seats, rather than disembarking at the top in the Botanical Gardens.
Throngs of families lined the entire parade route. Hundreds of children sat on the kerbside for close to an hour in anticipation of the parade and ensuring a good viewing spot. Tip Top (ice-creams and ice blocks) were primary supporters with Tip Top flags liberally handed out and ice-creams being sold at every turn.
Sophie was full of questions and comments…
SJ: I'm going to give Father Christmas a big hug when I see him!
Mum: Well, he'll be on a float, so you won't be able to hug him but you can give him a very big wave.
SJ: Father Christmas will be floating? Why? Why? Why?
Mum: Not floating as such, but on a float – like a vehicle – a sleigh.
SJ: Why?
Mum: Erm… let's go get an ice-cream!
SJ: Is it Christmas now Mummy?
Mum: Well, not yet, but it's coming closer. There are lots of fun celebrations leading up to Christmas Day.
SJ responded with a thoughtful, slightly confused look.
SJ: When is Christmas?
Mum: In December, on the 25th day of December.
SJ: Hey! My Birthday is in December! Boxing Day!
Mum: Yes, love, you're very lucky as you're Birthday will always be on a public holiday.
SJ: What's a public holiday?
Mum: Well, it's a lovely family day and we'll all be able to enjoy it with you. Daddy won't be working on your Birthday.
SJ: Hurray! All of us can eat cake together!
We had plenty of time for conversation as we waited for the start of the parade. With Sophie asking every few seconds, 'Are the vehicles coming yet?'.
When the parade started, promptly at 2pm as scheduled, Sophie had a prime viewpoint to see the oncoming floats. Her face lit up each time and said, 'Look!'. As the parade went on I kept saying, 'I wonder if this will be Father Christmas, he'll be right at the end.' Sophie was so excited as each float went past and particularly loved the marching bands and bagpipes (even though she did put her hands over her ears as they went past!).
When 'Bob the Builder' came past so many children gasped in excitement and glee that I thought, 'This will be Father Christmas!' Quite a few adults shared a joke on the fact that Bob and Father Christmas took equal share of squeals of delight from the children!
There were many other well loved children's characters too… among them Happy Feet, Dora the Explorer, Care Bears, Shrek, Percy (from Thomas the Tank Engine).
Charli (who didn't want to go as she's not a fan of crowds and is not quite A1 with a non-itchy all over body rash/virus that's going round school) was rapt that I captured a photo of a Storm Trooper for her.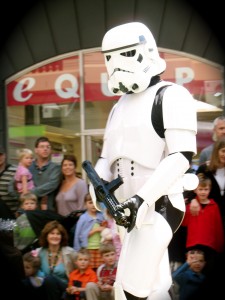 A beautiful float of seemingly floating Angels and the nativity scene captured everyone's gaze and Sophie was in awe at seeing Mary and baby Jesus.
There was a wonderful mix of entertainment, music, colour and themes.
Environment, religion, sport, well-being and freedom of expression… all well represented with so much thought, energy and planning.
A fabulous parade! Thank you Wellington City Council! I really loved it – even if my feet were swollen and legs very stiff from lots of squatting down at the kerbside and trying to angle my arm out from the crowds to get some photos!
For the full album of photographs click below: