With the days dark and short here in New Zealand we jetted off for some warmth and sunshine in the Cook Islands, just a three to four hour flight from Auckland. We have never visited any of the Pacific Islands and it was with great delight that we touched down on the runway in Rarotonga, surrounded by palm trees, and disembarked right onto the runway to be welcomed by a local musician singing and playing the Ukelele.
Rarotonga is the largest of the Cook Islands, a nation of 15 islands in the central South Pacific. It takes only 45 minutes to drive around the whole island, 11km in length. A 32km, round-the-island road links the beaches, coastal lagoon and reefs, with no traffic lights or fast food restaurants, and no building taller than the highest coconut tree. We were excited to enjoy 10 days of outdoor activities, relaxing, sampling the local food and enjoying a few cocktails (my personal favourite was the Pina Coladas!), countless fruit smoothies and the Cook Island Lager!
Our accommodation was in Muri Beach, where there is a beautiful lagoon for kayaking, stand up paddle boarding, snorkelling, and – when the wind is up – sailing and kite surfing! We literally couldn't believe our eyes when we arrived, as our accommodation opened up onto the beach, with coconut tree palms sweeping over the sand and the warm, crystal blue colour of the lagoon inviting us to take a dip.
We spent the first 5 nights staying at the Pacific Resort Rarotonga (we could only manage to reserve 5 nights, as they are a very popular resort, so the remaining four nights were spent at the lovely Crystal Blue Lagoon Villas, a few hundred metres down the beach). Both places were wonderful in different ways, but we did enjoy the resort atmosphere of the Pacific Resort, with the beach front bar calling happy hour with a conch shell every evening and the beach hut providing plentiful kayaks, stand up paddle boards and snorkelling gear (though the villas did have an arrangement with the Kite SUP place opposite for boards and kayaks).
It didn't take long for us to head out on a couple of kayaks to explore the lagoon, spotting colourful fish and even a sea turtle!
We were overjoyed to have a couple of amazing encounters with sea turtles during our holiday. They are such beautiful creatures and seem to have such a wise aura about them. On one occasion we were kayaking and came across two turtles, so we took it in turns to swim and snorkel with them, keeping a respectful distance whilst admiring them gracefully swimming.
Another time we went on a swimming with turtles tour in the Avaavaroa Passage, where we felt well cared for; as the currents were strong leading out of the reef to the open sea and there was fire coral to avoid – which was well pointed out to us! We went with a small group, only 7 of us in total, and we had a photographer and a second person supervising us. The photographs are amazing and we really loved the whole experience with Charlotte Piho Tours.
And we very much enjoyed 'Captain Tamas' cruise of the lagoon, on a glass bottomed boat, which took us out to a deeper part of the lagoon, where we enjoyed a wonderful snorkelling experience with loads of fish, followed by a scrumptious BBQ on a nearby island with fun entertainment.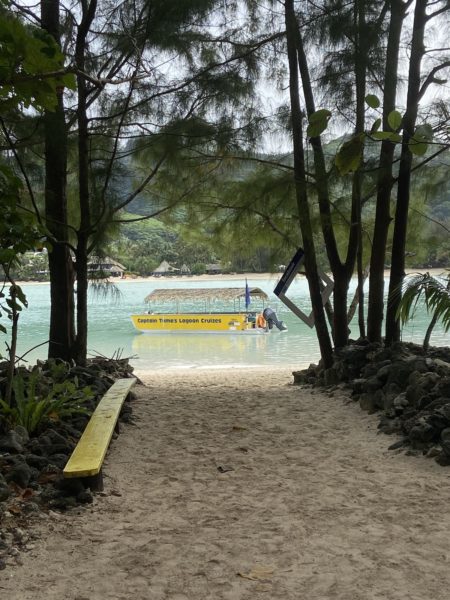 The beaches of Rarotonga are so peaceful and uncrowded, with the total population of the island being around 10,000 people (2021) and another 5,000 people living on the other islands.
The local people are very friendly and welcoming. We were spoilt for food choices, as there are over 100 cafes and restaurants. We really enjoyed the night food market in Muri. We also enjoyed an evening meal at the sailing club at Muri beach, where a couple of locals entertained the guests with beautiful singing and guitar playing. Another evening we drove around to the other side of the island, to enjoy the sunset, and dined at the atmospheric Waterline Restaurant and Beach Bar. We enjoyed lunch at local cafes and loved 'Charlie's Raro' and Maire Nui Gardens and Cafe.
The central part of the island comprises of mountainous lush forest, which called to us from the beach after a few days. We'd spent time out in the lagoon looking up at the rich flora blanketing the interior of the island and our sense of exploration was piqued. We enjoyed the 3km Raemaru hike, through lush forest up to a viewpoint, with a 15m rock climb at the top (which my husband and our 17 year old bravely accomplished). The views were stunning and we saw a beautiful White-tailed Tropicbird | Rakoa soaring above us on the air current. As we walked we were accompanied by numerous butterflies, called the 'Red Postman Butterfly'; which were introduced to control the invasive red passionfruit vine Passiflora rubra.
We would have loved to have done the 'Cross Island Trek' | Te Rua Manga, but rain fell during our second week and having experienced the steep slippy terrain on the shorter Raemaru hike we opted not to do it – in addition our last two days were occupied with my husband and 17 year old taking kite surfing lessons (very brave!) whilst my 13 year old and I enjoyed some time relaxing, swimming in the pool, stretching out on the deck with some yoga, reading and watercolours.
We visited 'Black Rock' (Turou)one day and this place had such a magnetic pull to it. It holds great spiritual significance to the people, traditionally believed to be where the spirits of the dead commenced their voyage to 'Avaiki (the afterworld).
The distinctive black, basalt rock contrasted vividly against the white sand and turquoise blue water of the surrounding lagoon. There was also a fascinating collection of dead coral washed ashore, amongst which were a few tiny little hermit crabs.
As we stood on the rock and gazed out at the horizon we were in awe to see a whale breaching, making our visit to this place even more amazing!
Other activities we enjoyed on our holiday were playing mini-golf and visiting the museum, where we learned about the history of the Cook Islands. And then there were all the island dogs to pat – and go for walks with! On many occasions we were taking a morning, or evening, walk along the beach and found ourselves being accompanied by one of the friendly island dogs.
We also enjoyed visiting the Maire Nui Gardens, where the tropical plants and flowers (that we are used to only seeing in pots indoors) vibrantly surrounded us.
It was a wonderful holiday, with such a wonderful mix of outdoor activities to enjoy in the most beautiful natural environment. Even when we had some rain there was beauty and the wind brought all the kite surfers out, which was very exciting to watch! Dan and Sophie spent two days learning how to control a kite, getting on a board for a short time on the second day – both of them said it was extremely complicated and challenging!
I could have watched those changing shades of blue and grey for days and days, it was absolutely a slice of paradise. Thank you Rarotonga for a wonderful time!