The long summer break is before us with hopefully lots of beach days and sunshine. We've had a busy last week or so, what with Charlotte's wonderful dance show taking up all last weekend, a carol service and a prize giving evening at the Town Hall on Thursday evening. There have been Birthday parties galore and pre-Christmas gatherings of one sort or another. We are now looking forward to a week of 'down-time' to prepare for Sophie's 6th Birthday Party and the big arrival of dear 'Chicken' Grandma & Granddad on 20th December!
We had a treat this week, with my wonderful cousin visiting from England! We worked out we hadn't seen each other in around eight years – at Charlotte's christening! It was such a treat to have her to stay for a couple of nights and share in our crazy family life (top marks to Jane – she'll make a very wonderful Mama one day – hopefully not too far in the distant future… wedding bells are calling her in September 2012!). We enjoyed a lovely Friday evening touring some of Wellington's lovely spots in the sun (thank you weather Gods for turning on the sunshine!).
Sophie, Alice and I met Jane at Wellington Airport on Thursday. She nearly got picked up by Sophie on a bike and me with Alice in the buggy… as we'd been hanging around Lyall Bay beach, near the airport, and made a decision to ditch the car and head there by foot and wheels! We got there so early that we had morning tea and then decided to return to the bay and pick up the car. I think Jane was quite relieved – as she'd had a late night in Auckland and an early start with a bus ride to the airport.
The Airport looked lovely and Christmassy and I felt great for jogging there and back (Sophie is very good at motivating people to work up a sweat!).
After we'd met Jane, and Sophie had given her a tour of our home, we headed to our local Zoo for a whistle stop tour, making good use of the girls' annual passes.
In the afternoon we visited Te Papa, where Charlotte (who'd finished school at lunch time in preparation for the evening prize-giving) and Sophie took their second cousin on 'The High Ride'!
The girls all took a real liking to her and we're excited that she'll be stopping one more night before she flies onto Australia to meet up with her fiance for Christmas and New Year, before returning home to England. She'll be stopping the day of Sophie's Birthday party – which we're holding a few days before her actual Birthday on Boxing Day.
Hopefully we get more summery weather. It was such a delight to play at the beach on Friday with her, show her the 'giant' swing at Worser Bay and the beautiful 'Rose Gardens' in Wellington's Botanic Garden.
We were going to have all her class-mates to the party – but sadly this week has also been one of huge decision making and Sophie won't be returning to the school she'd tried for one term 🙁 If it wasn't for the huge school fees, we may have tried harder to make it work – but we weren't prepared to put up with the stress for the cost of $3000 at term!
Sophie went into school on Friday to hand out a hand-made card to each of her class-mates. They have all been so kind and welcoming.
Such a fabulous school, teacher and class-mates – but Sophie is suffering anxiety away from home (you'd never think it – she comes across in public as a very confident, strong, bright, independent – sometimes bossy – active and passionate young girl!). Anyway, I don't want to go into heaps of details, but just to say we're supporting Sophie each step of the way and are confident that we'll look back in a couple of years on this period and see it as just part of the journey. An application for an exemption certificate to home-school has been submitted in the meantime.
I'm fortunate to have a very supportive family, a great local environment to support Sophie's home-education and a strong community of friendly and wonderful neighbours to ensure positive social interactions.
Alice is mostly happy to go along with the flow and enjoys Sophie's company (though it isn't always easy for me to meet their differing demands). Saturday morning we shared the joy of discovery, with hundreds of jelly-fish at Oriental Bay beach, whilst Charlotte was at a super cooking Birthday party. One poor swimmer is nursing sore lips after swimming into one – as I read in a report in The Dominion Post, by Paul Easton:
National Institute of Water and Atmospheric Research principal scientist Dennis Gordon said the culprit was probably a spotted jellyfish.

However, it was unusual to see them this early and so large, as they were more common in summer, when food was plentiful.

New Zealand is home to at least seven jellyfish species. Spotted jellyfish have 30-centimetre-long tentacles and dark polka dots on their bodies.
It's going to be a really fun summer with the girls and their wonderful Grandparents. Alice is such a chatter box these days and parrots any new word she hears. She's also running to go potty whenever she's at home – Kai Pai Alice!
She had her first 'game' of mini-golf, in Lower Hutt, last weekend (whilst Charlotte was dancing). It was the first time she'd actually been given a ball and club of her own. She didn't think much of the club (which I carried around), but loved the balls and watching them roll about – she also fancied one of the bunkers for a nano-nap!
The pair of them had fun at the playground and beach at Petone foreshore too…
So… fun times ahead!
Charlotte wasn't so 'loving' that school had finished on Friday – but we take that as a positive. She has LOVED the past two terms at her new school. We have never seen her so happy. We loved seeing her perform a cool 'Bollywood' type dance at the Wellington Town Hall, as part of the Junior School prize giving ceremony.
But, after a weekend of leisure, she's getting her 'holiday' hat on and getting into the groove of enjoying time to create, play, make music and dream (without an alarm clock wake-up call!).
She was also very taken and excited with seeing this groovy fella at Te Papa on Thursday…
My biggest love of the week has been seeing my dear cousin Jane. She was so marvellous with the girls and extremely patient with Sophie's endless demands! I enjoyed a quiet coffee or two – with Alice taking a nap on the run in the car – whilst Jane entertained Sophie…
Usually Sophie and I are reading together or sketching whilst Alice takes a nap…
And finally, I actually made it out – at night – to a proper 'night club' to celebrate my dear friend's 40th Birthday (okay, I had children in tow… but they were allowed, as the night-club had been privately booked out for the celebration)!
My friend and I worked together when I first came to New Zealand, in 1997! She now has four gorgeous children and is an absolute inspiration to so many people. I only managed a flying visit, but a quick boogie was just magic – and to see my dear friend looking so beautiful, happy and surrounded by her gorgeous family and friends was wonderful.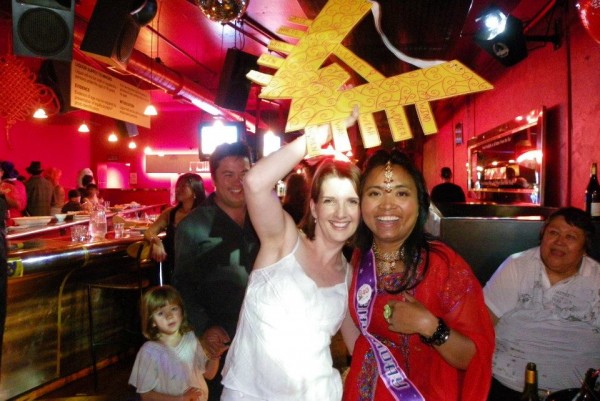 Now it's countdown time to the arrival of my folks from the UK (wishing them safe & very happy travels over here!), Sophie's 6th Birthday Party, Christmas and New Year!
Love, Love, Love!
Linking up with….