The lounge coffee table, once perfectly polished and gleaming, adorned with fresh flowers and a chosen book or two of the moment has long gone. Underneath are drawers of stickers, stamps, stencils and colouring books. The surface is pot holed and well loved. Glitter, scratches and pen marks hide under a ton of work in progress. I gave up a long time ago on keeping it pristine and embraced the world of creativity that comes from having two motivated young learners in the house. When the right tools are placed within a child's grasp, creativity is fruitfully forthcoming and beautiful to watch (though lessons in tidying up are very much a work in progress!).
The most positive outcome of letting go of my pristine coffee table (which, in time, will return – but so too will, sadly, a quieter house minus the creations and gifts to Mummy and Daddy) is the welcome ignorance of the T.V. The girls rarely watch T.V. now – except for well picked movies at special times. They spend hours creating and giving us gifts from the heart.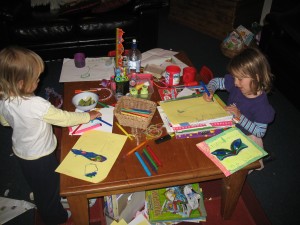 The dining room table, where our computer sits, is strewn with piles of bills and artwork. The kitchen table also has pens and paper at hand. Even the laundry room has been completely taken over with art, play-dough, paint and crafts.
Sophie is currently learning to cut and fascinated with sticky tape, glitter and glue. Charli is writing stories and letters. The floor is strewn with off cuts and pen lids (another work in progress teaching Sophie to remember to replace the lids!). Sophie asks to paint at all hours of the day – after breakfast, before bed… I have reams of her artwork piled up and waiting to wrap presents in. She loves to mix colours and watch the magic of creating new colours. Charli shows her emotions through writing.
However, some of her notes are a little lacking in sensitivity and knowledge of the power of certain words on others! This lovely piece of artwork was presented to me after I'd told her off about something or other – I can't even remember what now!
Anyway… she went away and came back with this – it wasn't until I looked closely (you'll have to click on the photo to really read it!) that I realised exactly what she'd written and how old she'd put me – zero – for baby! I was chatting with my neighbour at the time and fortunately we saw the funny side and had a good laugh! I'd rather she take out her anger and frustration on paper than venting it in outbursts of physical and verbal fury!
(Sorry Charli – you'll really laugh at this one day too… and in fact you did laugh when you saw us oldies seeing the funny side! You followed up by saying, 'Mummy, if you feel like no one loves you and you need some time away in your room, you can put this on your door!")