Our dear Sophie turned 3 on Boxing Day and her first words on waking were, 'I'm three, I'm three, I'm really three!'. It seems only yesterday when she made her joyous arrival and she's been our happy ray of sunshine ever since. Ever the charmer, the peace maker and the joker. She only stops talking when she's eating or sleeping, and captures the hearts and minds of everyone she meets. We are so blessed to have her in our lives and the relationship she shares with her big sister, Charlotte, is a sheer delight to watch.
However, her Birthday morning was a little strained, with Charlotte having a touch of the green-eyed monster (not a pretty sight and something I've not seen much of in her… think the strong emotion even took her by surprise and she didn't know how to handle it or what to do!). Anyway, I spoke a few strong words and left Charlotte to stew them over with Daddy, whilst I took Sophie out in the sunshine to Waitangi Park. The wonderful Jessie at the cafe there gave her a Birthday ice-cream and she was telling everyone she met, 'I'm three today!'. After a lovely little play in the sunshine we went over the road to New World to collect her Birthday Cake and some delicious BBQ food for the party.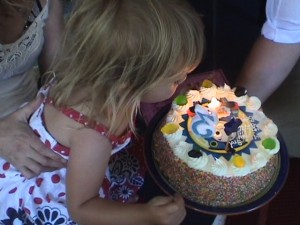 By the time Sophie and I returned home Charlotte was back to her bubbly, helpful self and was a star for the rest of the day (realizing Birthdays are just as much fun for all involved, not just the Birthday girl or guy). She was so reformed in her behaviour all afternoon that we let her stay up late with the adults and party to Sing Star till 10pm – she sang and danced her little heart out until she finally flopped to sleep a very happy lass!
Sophie's Birthday BBQ was a resounding success and brought with it happy memories of last year's fun. We are so fortunate to have so many wonderful friends and it was magic to see them all together and sharing in each other's vibrant company. Though our thoughts were also with those otherwise engaged at other festivities; family on the other side of the world (who sent the most perfect gifts); friends of old who have left New Zealand for other shores; or off escaping the 'silly season' and tramping in the bush (dear Loose, with whom I recently had a fabulous weekend in the Marlborough Sounds). The party absolutely flowed with crazy fun and games (and quite a few drinks sunk by the adults!). The weather was glorious and all the children (and adults) had so much fun playing in the sunshine. We cooked up a storm on the BBQ and enjoyed fresh salad from the garden.
The party didn't even feel 'hard work' for us hosts, but an absolute delight and pleasure, since everyone lent a hand and enthusiastically got involved. We are so thankful to everyone for coming along and sharing some good 'ole fun. Sophie, who originally didn't want a party, delighted in being the centre of attention and loved all the crazy games, with her favourites definitely being the pinata and running through newspaper… and then there was the face painting (I don't think many escaped unmarked!).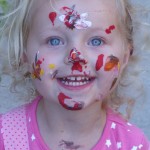 She was particularly pleased that her friend Alicia was there, insisting that she sit next to her at the table. Sophie also had a ball with her friend Hayden (who turns three on New Year's Eve); they are so crazy and cute together! And, on behalf of Sophie, thank you to everyone for the kind and thoughtful gifts. Marrisa, Michael and Bethany, who sadly couldn't be with us, kindly gave Sophie a wonderful gardening set (which she's quickly putting to good use!) and Jo made the most beautiful doll for Sophie (definitely a home-business initiative in the making!).
Thanks everyone for coming along and celebrating Sophie's Birthday. It was a blast! Special thanks to Stephanie and Francis for deciding to stop over and carry on partying (and cleaning)! The girls were so excited when they woke to find you had spent the night! Our dear neighbours were an absolute hoot too – we really are so blessed to have you living next door and, as always, you brought so much laughter and cheer to the party (and great singing too!). Thank you too for the beautiful bench for the girls (perhaps it will encourage them to sit down from time to time – ha, ha!).
Here's a wee video-clip of the fun and games (taken a while to put together due to camera failure on the morning of Sophie's Birthday – great timing – not! We had to film this with different cameras and it's taken us a while to work out the technicalities and find all the various leads to load up onto the computer!). Anyway… here it is (got the most important bit – blowing out the candles, thanks to Craig – who also plays a darn good tune on the piano – and who has recently immigrated from the UK to NZ with his wonderful wife Rachel and delightful son Myles!):