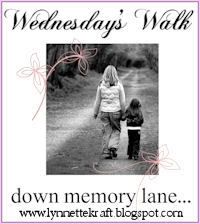 Okay, it's Thursday already, but here is my walk down memory lane for the week.
Our First Home

It was an overcast day when Dan and I visited the house, but no cloud could dampen my first impressions. The house sat proudly in the hills of Brooklyn, overlooking Wellington harbour and Mt. Victoria. The wooden, paneled house was painted a delicate pink with green, window frames. It looked as though it had only ever seen happy days (I later found out it had been owned by a number of English couples, who had given birth to their first babes and then moved on when they needed a little more space… and easier access!).
From the off-street parking area I looked up the steps leading to the front door. A retaining wall had been carefully landscaped with Toetoe (elephant grass I like to call it!), native bushes and a beautiful Punga tree. Fresh palm fronds unfurled boding well for new beginnings. My instincts were telling me, "This is the one!" before the agent had even opened the front door.
Dan looked at me with a confident smile. I recalled his phone call, "Love, I think I've found the house! Are you free now if the agent and I drop by your work and pick you up to take a look?". I trusted his taste and, having viewed countless houses with him, knew that we wanted the same things in our dream, first home.
The front door opened to a warm entrance area. My eyes, gazing downward, settled on terracotta tiling and then looked up and around, trying to take everything in at once. There was a doorway to my left and a beautiful, polished, wooden staircase to my right. The downstairs room was fresh and light, with its own deck and en-suite bathroom. The room was large enough to be a guest room and study. I was already envisaging how it could be furnished!
My excitement was showing in my eyes and Dan grasped my hand, eager to show me the rest of the house. As we walked up the staircase I caught a glimpse of more terracotta tiling in the kitchen and beautiful, polished floorboards. The open-plan living area opened up like the arms of a loving parent and I knew instantly that this was the house.
The modern, spacious kitchen invited even the most reluctant of cooks to experiment and was naturally lit by a sky light window. The living area opened up on to a deck with captivating views. The wooden floor led like the yellow brick road into the remaining two bedrooms and bathroom. I was caught in a spell.
All the walls were freshly painted in a non-imposing ivory and the bedrooms carpeted in dusky pink. The main bedroom had sliding doors opening onto a private deck overlooking the distant mountain ranges. I pictured lying in bed watching the orange glow of dawn and the pink shadow of dusk. "Let's go for it!" I shouted.
I couldn't wait to fill the house with our love and make it our home. A few weeks later, when the contract was signed, I could feel the presence of the house thanking us. It was to be our first home together as husband and wife. We'd married in England a year earlier (1999), with the love of all our dear family surrounding us, but moved to New Zealand a few month's later following a great job opportunity for Dan.
We spent a very happy five year's in that home in Brooklyn, Wellington. The road our house was on was called 'Connaught Terrace' which coincided with the name of the place Dan and I had first met – 'Connaught Halls' of residence, at Southampton University, way back in 1992. We certainly had a lot of fun then and our passion continued in our new home – creating our two beautiful daughters! But before the girls came along it was a serious party house!
Eventually, we ran out of space and sadly had to bid farewell to our first home. But our second home shared synergy with our first home – both houses being 'number 52'! I'm a great believer in signs and my gut instinct was right second time round too, but that's another story!
Visit Dancing Barefoot on weathered ground if you'd like to join in and share your memories (as well as read some beautiful memories from other lovely folk!).