Sophie whipped up some delicious butterfly cakes yesterday. The recipe and instructions follow. The biggest lesson we learned was DOUBLE the recipe! The recipe we followed was supposed to make 8 cakes, but we managed to make only 6. They must have used mini paper cake cases to make 8! We used muffin cake cases, which were too large and we had to trim the paper down to the cake level after they were cooked. Next time we'll go for small cake cases and double up the recipe.
These are a real favourite of mine as my Grandma used to make them, as well as a whole tea tray of other delights for afternoon tea.
Be warned: They are mouth watering and best eaten on a not too empty stomach (as you'll want more and more…). Next time I shall pour myself a proper cup of tea in a china cup too!
To make 8 cakes, you will need:
1 medium egg
50g self-raising flour
quarter of a teaspoon of baking powder
50g caster sugar
50g soft margarine
small paper cake cases
a baking tray with shallow pans
For the butter icing:
40g butter, softened
a few drops vanilla essence
75g icing sugar, sifted
about 4 teaspoons raspberry jam
extra icing sugar, for dusting
1. Sift the flour and baking powder into a bowl. Add the caster sugar, egg and margarine.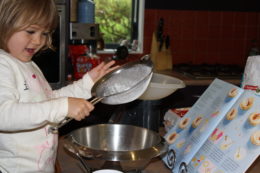 2. Stir all the ingredients together until you've made a smooth creamy mixture, as demonstrated by Sophie 🙂
3. Put the paper cake cases into the pans in the baking tray. Half fill each paper case with the mixture.
4. Bake the cakes at 190°C, 375°F, gas mark 5 for 16-18 minutes. Once cooked put them on a wire rack to cool.
5. To make the icing, put the butter into a bowl and add the vanilla. Stir them together until the mixture is creamy.
6. Add some of the icing sugar to the butter and stir it in. Repeat this until you have mixed in all the icing sugar.
7. Use a sharp knife to carefully cut a circle from the top of each cake. Then, cut each circle in half, across the middle.
8. Spread some of the icing on top of each cake. Then, spoon half a teaspoon of jam in a line across the icing.
9. Gently push two of the half slices into the icing, so that they look like butterfly wings. Then, sift a little icing sugar over the top. Te da!
10. Wash up before eating up! Sophie asked me to photograph her super clean spoon 🙂
11. The best bit…. oooooo the anticipation and the devouring…
Recipe Credit:
Fairy Cooking (Usborne Activities) by Rebecca Gilpin