A snapshot of our week, with one daughter at private school (her choice, our expense!), one being unschooled (her choice, our suffering/joy!), one toddler undertaking experiments in life under her own steam at home!
In my life this week…
I've had a rotten cold and the overwhelming feeling of tiredness and body cramps that comes with PMS (it's like my body is working out how to 'work' again – as this will be only my second period since before pregnancy with Alice nearly three year's ago!).
In hubbie's life this week…
He has been working so, so hard (as ever) and had to fly to Melbourne on Wednesday (home on Saturday 'avo) for some intense work setting up a new system there (he's mostly seen the inside of an office). He did manage to squeeze in tennis training session on Tuesday and enjoyed meeting his cheeky unschooler for a curry on Monday at lunchtime (after she'd done some pretty good writing about what she'd done at the weekend). He's also been beating me at Scrabble and enjoyed watching BBC One's amazing 'Frozen Planet' series.
In our school girl's life this week…
An open heart to heart has brought about a happier school girl than the other week. Art, singing, choir, French and friendships are keeping her happy and strong at school. She also gave her all in 'touch rugby' on Wednesday after school – never mind her school team was beat by a strong team of mostly boys – they had fun and put their hearts into it! Out of school she's still loving 'American Jazz' dancing, doing well at swimming (which she 'does', but doesn't 'love') and discovered the 'Judy Moody' book series by Megan McDonald and illustrated by Peter Reynolds. She stayed home on Friday with an on/off cold – spending most of the morning resting, before we went out rock-pooling in the late afternoon, and then she met up with a good friend from her old school for some good 'ole singing, laughing and having fun.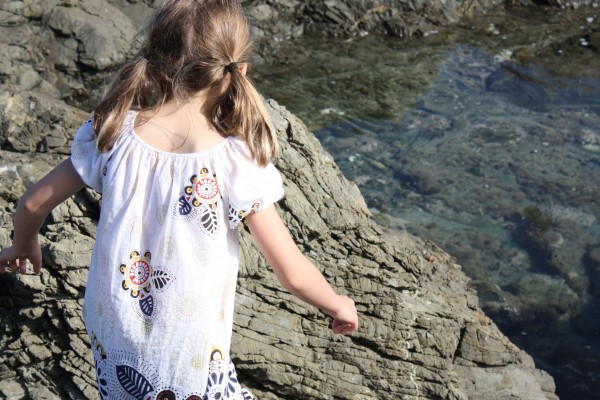 In our unschooler's life this week…
Working on making writing a regular part of the day (handwriting is not something she works on easily – especially when the keyboard is at hand). She's coming up with some creative writing when she puts her mind to it and wrote a neat little poem about taking her little sister, Alice, on her first train ride.  Reading fairy tales, myths and legends. Marvelling at our Monarch caterpillars (all eight of them) going into chrysalises this week.
Meeting up with another unschooling family for a wonderful morning of creative play and learning. Walking in the native bush near our home.
Playing ball and climbing a rope ladder in the garden. Making 'acorn' people and observing the signs of autumn in our environment.
In our toddler's life this week…
The moon and its appearance in the day-time sky has been of great fascination and mystery, with questions of 'Where's the moon gone?' when she can't see it and 'Please touch the moon!' when she can see it (thanks to Eric Carle's wonderful book 'Papa, Please Get the Moon for Me'). I found some fabulous learning ideas to tie in with Eric Carle's book here.
She still loves the sand and getting covered in it – a huge milestone was she actually helped her big sister build a sand-castle (as opposed to destroying everything like a puppy looking for a bone!).
She loves talking to Grandma & Granddad on Skype, but is missing her Daddy (away in Melbourne) and beginning to fear that everyone flies away from her and ends up talking to her from a computer (all very 'Dr Who' – which her older sisters love).
Places we've been, people we've seen…
Carlucci Land for a game of mini-golf after school on Thursday (all three girls got something out of the experience!).
Rock pooling on Wellington's south coast and the Taputeranga Marine Reserve on Friday.
Playing on the beach Friday evening and enjoying an unplanned play with gorgeous un-schooling friends that happened to be there at the same time – love it when the stars align.
Walking in the town-belt land and enjoying our local bush, with sweeping views of the coastline, on Thursday morning.
Taking a train ride to Johnsonville and back on Tuesday morning – just for the fun of it and to give Alice her first ever taste of train travel!
Enjoying a catch-up with neighbours on Monday after school – lots of trampoline action, make-believe dramatic stories being acted out and tree climbing going on!
What's working for us…
Being aware of each other's feelings and being flexible with our days to allow for everyone's health and well-being.
I'm grateful for…
The words of wisdom & support friends in my on-line world share and take the time to give. New friendships and experiences. Old friends that care, no matter the distance.
A quote to share…
A child's spirit is like a child, you can never catch it by running after it; you must stand still, and, for love, it will soon itself come back. – Aurthur Miller