We've been home in Wellington four days, after an amazing fortnight on the East Coast of Australia, staying a week in Byron Bay and a week on the Gold Coast.
A highlight of our week in Byron Bay has to include the stunning beaches, such as Tallow Beach (that are great for sand art, cartwheeling and headstands!), and Wategos Beach (and Wategos Little Beach!).
The main beach of Byron Bay is also lovely to spend time. There is always surfing to watch, families playing on the sand and in the surf (dolphins too!) and in the evening there's a wonderful holiday atmosphere (even a full-moon drumming circle if you time your visit right!).
Our time in Byron Bay was made particularly special thanks to the wonderful company of good friends, that used to live in Wellington some nine years ago. They moved to Byron Bay when their daughter was five year's old and she has been a very close friend of our oldest daughter from birth. The girls both turned 13 this year (they were born three days apart – one arriving three weeks early, the other two weeks late!), so it was wonderful to reunite and celebrate. The pair of them have retained the most beautiful friendship over the years, with each of them visiting the other and enjoying some ski adventures too. Hubby and I were so thrilled to spend so much time with the Mum and Dad of our daughter's friend too, both really amazing and wonderful people.
On one day we visited the amazing 'Crystal Castle and Shambhala Gardens' and marvelled at the incredible location of this serene place, with panoramic views for hundreds of miles over the hinterland (I will be writing a separate blog post on this incredible place).
We enjoying walking around the headland reserve of Cape Byron and seeing migrating hump-back whales spouting through their blow holes so close to land.
The walk up to the lighthouse was really stunning.
Alice and I loved it (though the older two weren't so pleased about the hike and gave their poor Daddy some grief! Thankfully Alice and I were way ahead of them, as they'd back tracked to go Pokemon Hunting… oops!).
On a visit to Currumbin Wildlife Sanctuary our youngest daughter was really excited to meet her first koala and kangaroo (had to be done on her first visit to Australia!). She even held a black headed python!
Meanwhile, her ten year old sister enjoyed tackling the high ropes course with her Dad – which included a zip line over the crocodiles and kangaroos (more on this to come in a separate blog post)!
The holiday house we stayed in was well positioned, in easy walking distance to Byron township and the main beach (but not too close as to be kept awake at night). Our children were stoked to find a pool and spa (where they happily splashed from the cold to the hot, and back again, until they looked like prunes). Hubby was wrapped with the 'Addams Family' pinball machine (the main attraction in choosing the holiday house!).
And there was plenty of time in Byron Bay for walking barefoot on the sand, eating scrumptious and healthy food, ambling through the town; admiring the gorgeous shops and artistry, and paddling in the sea; without our feet feeling like ice-blocks.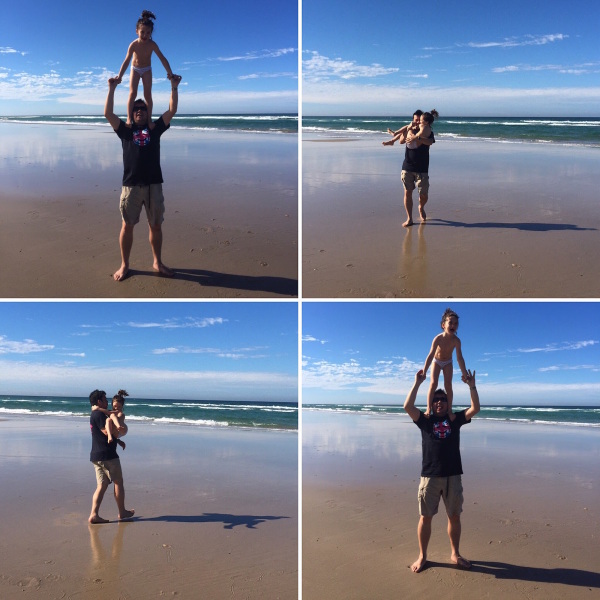 The local birdlife was something that hubby and I marvelled at, particularly the lorikeets, kookaburras and ibis. Our children were more interested in checking for Pokemon! The bonus of having our phones commandeered by the children was having more time to enjoy the moment, walk hand in hand with hubby, and stop, drop and do yoga when the impulse took me!
Our Gold Coast week, the second week of our holiday, was all about the theme parks and attractions. A very different pace to the first week, but we felt well rested and up for the challenge!
The children had a blast visiting Dream World (& adjacent WhiteWater World), Movie World and Sea World. We were really lucky with the weather over our first weekend on holiday. After an initially cold greeting on the Wednesday of our arrival, the temperature rose to the mid twenties. We made the most of the quiet season and warm weather to splash about in 'WhiteWater World' which had some really fun water slides and a massive wave pool. We really LOVED Dreamworld and visited it a couple of times in our week. There were rides and shows to suit all ages and interests.
Movie World was great, but unfortunately a couple of big rides were closed for maintenance. Nevertheless we found more than enough to keep us very well entertained and the parade at the end was a treat for our six year old (who also adored the 'Junior School Driving Academy' and even braved the 'Scooby Doo' ride!).
The older two also enjoyed a day with their Dad and friend doing an 'Escape Hunt' – 'Kidnapped on the Beach' and visiting the 'Infinity Attraction'.
On our first afternoon there we somehow found ourselves doing an 'iFLY' (as the children had spotted it and talked us into it!). It was actually hilarious fun (best described as an 'indoor skydiving' – without the jump, where you fly in a large cylinder, powered by a giant fan!). We all enjoyed it, even our youngest had a go! Crazy fun!
We found 'Sea World' to be a fun day out for all the family too, despite the controversy of seeing dolphins in captivity, they did have large enclosures and the staff were really great in teaching the visitors about the importance of looking after our oceans. There was a high ropes course (which the older two children enjoyed with their Dad), a fabulous tree-house type obstacle course for our younger daughter, lots of fun rides for all ages, some great learning displays with educational booklets to complete, touch pools and a wide range of additionally costed experiences. The most entertaining part was the 'Battle Boats' section – where everyone got absolutely dripping wet squirting each other with water pistols from the boats (and being squirted at by passers by, that could duck for cover!). It was really wonderful to see people of all ages and cultures sharing fits of laughter as they sprayed each other with water!
Our accommodation for our second week was in a beautiful apartment, directly on the beach, called 'Dorchester on the Beach'. The swimming pool was heated and looked out directly over the beach. It was a fabulous location and from our 11th floor apartment we spotted humpback whales on their annual migration.
I enjoyed the opportunity to meet up with a couple of friends that live within a half hour drive of where we were staying, which as really very special for me.
We also enjoyed a great dinner at the local surf club, with the family of one of the Australian girls, from the 'Australian Girls Choir' that we'd hosted in our home the week before leaving for our holiday!
A small and wonderful world it is indeed.
Now we are back to reality and trying not to spend too much time dwelling on the inclement weather that has made our post holiday blues a little more pronounced than usual!
Our return flight was a lot quicker than our outbound one (thanks to no delayed flight and a strong northerly wind giving us a speed boost), but a very bumpy return (pretty standard when landing in Wellington!). It's quite a shock to return to temperatures under 15 degrees, after enjoying stunning weather in the twenties for most of our holiday.
We flew in just after midnight on Wednesday and arrived home to a very excited dog! Dear hubby was straight back to work the next day, whilst I got stuck into the unpacking and washing, and our three daughters amused themselves (Term 3 starts back tomorrow, Monday 1st August, for all but one of them – the youngest of our three is being homeschooled for a while).
Thankfully the grey days never hang around for long in Welly, the blue sky will be back soon and in the meantime I'm happy that our dog gives me the impetus to get out in the fresh air for a walk regardless of the weather.
Feeling very grateful to have enjoyed such a wonderful holiday and to have spent quality time with great people.