I signed up for the Xterra West Wind 18km trail run on a post period high whim (hormones making me feel invincible and able to do anything!).
I'd not ran much more than 10km in a while and my hill training consisted of walks on the trails around my home, along with my four legged friend and two of my children – not exactly appropriate training for such an event!
Nevertheless, a local acquaintance of mine – who I'd got to know through some running events and, in particular, the 'Greatest Virtual Run NZ' charity and the associated GVR Facebook Group, had signed up and when I saw her post about the event I was eager to join in.
I'd always wanted to do this particular event – located on the incredible coastline of Makara. The event passes through the Meridian Energy West Wind – wind farm. As well as being a naturally stunning area it is also quite something to run under such huge feats of engineering!
It is the first event in a series of five that Xterra Wellington run over the autumn and winter months. Each event offers a long, medium and short course. In hindsight I should have limited myself to the 12km course, as the 3-4 kilometre beach section, near the beginning of the 18km race, was torture (after a narrow, steep and stunningly scenic descent – not advised for vertigo sufferers!)!
I really should have read and thoroughly absorbed the course description…
Course runs anti clockwise. Start at HQ and run toward Wharehou Bay. Hit the coastline and rock/log/sand hop your way around the coast. Take a left up a steep ridgeline climb then veer right through a junction and in to some pine forest single track. You can run fast in here. Then it gets more technical through some native bush before you follow a creek out to a valley floor. Run up the valley for a couple of hundred meters before turning right up onto another climb towards the wind turbines. Take a left at the top of the climb and enjoy the views until you turn left and leave the road through a gate. Double back a little and until you dive down into the valley again. One last climb before you hit the service road, turning left to head back to Race HQ.
When you think 'beach' you might think golden sand, perhaps a nice hard packed section near the shore-line, but this was wild and rugged coastal terrain, pebbled and strewn with drift wood, giant kelp and boulder sized rocks to scramble over and turn a person's legs to jelly.
I had simply not anticipated what an energy sapping experience jogging, tripping and stumbling over that terrain would be. I had a twinge in one of my calf muscles from earlier in the week and it hadn't properly healed, so placing my feet on a constantly moving surface really aggravated it. By the time I reached the first hill my legs were already pretty sore, but mind over matter and all that, plus it was nice to be on a firmer surface – even if the elevation gain was pretty steep.
After the first climb we descended, with relief, and came to a single track through pine forest – which was the easiest section of the course, before hitting some native forest and lots of mud! In the few days preceding the event it had rained pretty constantly. A few people found themselves sinking into mud up to their thighs (including my friend) – on the positive side no one lost a shoe!
The next climb, toward the wind turbines, I forgot about any thought of running and just pretended I was on a regular Sunday hike, stopping to take photos along the way. By this time most of the other runners had passed me and I was in my own merry company for a lot of the time, along with the wind turbines.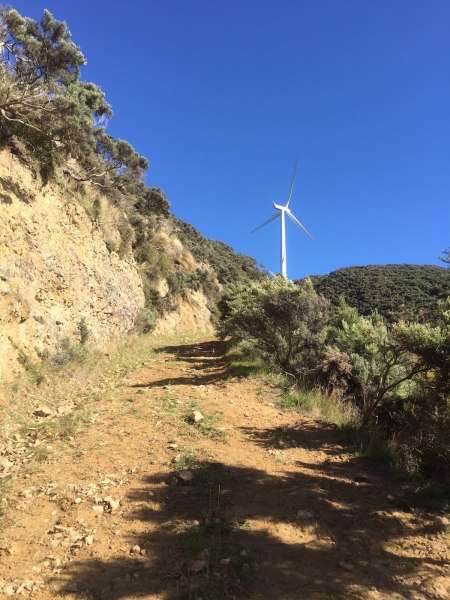 The views really were wonderful at the top.
Eventually, it was time to dive back down into the valley again, with the race headquarters in the far distance (up another hill).
The descent was really steep, on lumpy grassland, pocketed with bush to navigate around. I was glad the course organisers had marked the route so clearly. After stumbling around in the valley for a while, on legs that really were beginning to shake with protest, I was met with one more final climb. Some lovely volunteers were at the bottom of the hill with fresh water and jet plane lollies – I could have hugged those lovely people! I glugged down a couple of cups of water and pocketed a few jet planes for the climb up 'Misery Hill' (as the organisers had named it). I really was fatigued at this point and practically crawled up that hill at a snail's pace. One lady, slowly crept past me, saying, 'This is the slowest pace I have ever over taken anyone in a race'. I just smiled, stopped and took another photograph whilst my legs trembled with exhaustion and pain!
There was the relief of a downhill section near the end, which I jogged down, before one more little climb… I just didn't have it in me to jog that, until the final few metres over the finish line! The photographer snapped me as I crossed the line – and I look like I'm already dreaming of the nana nap I was definitely going to be taking that afternoon!
I am so proud of myself for just crossing that finish line! The speedy top female runner (out of around 65 women), crossed that course in 1 hour 58 minutes (AMAZING FORM!). There were nearly 120 male runners, with the fastest crossing the line in 1 hour 41 minutes. Everyone had finished the long course by 3 and a half hours from the start at 9am that morning. There were a few injuries (not surprising on the steep and slippy terrain). I crawled over the line in 3 hours  and 6 minutes, and can say that it was harder than the full marathon I ran in the Hawkes Bay last May – my first marathon, which I was really happy to finish in 4 hours 23 minutes.
I learned a lot from the Xterra West Wind long course – mainly to train harder on hills and mixed terrains, as well as do a lot more strength building on my quads and gluteal muscles. I have come away from the experience feeling inspired by woman older than me that nailed that course. I feel passionate about keeping this body of mine fit and healthy through my forties and well on into my fifties and sixties, so that I can be running just like them (or at least dream of running like them!). I started out running as I approached my forties and decided to 'celebrate' turning 40 with my first half marathon. After a few years of running mostly on the flat and easy terrain, I'm ready to step up and take on the trails with more passion. I always loved hiking in the outdoors, years before I had a family to care for, and now I'm returning to those trails, with more determination than ever.
I can do this! But first, I need to spend a few more days stretching out my sore muscles until I can walk up the stairs in my house comfortably!