The Borne Naked Handbag Makeover Challenge has changed my life (or at least answered some of my style prayers – to answer all of them a miracle would be required!).
This was a typical Pre-Borne Naked occurrence in my life:

I hurriedly dive into the depths of my mega baby bag to retrieve the all time essentials; purse, keys, phone & sunglasses. I'm off out to pick up my big girl from school & enjoy a little one on one time, sans baby & pre-schooler, (who are being looked after by a friend).
I have promised her a visit to her fav cafe & really don't want to lug the baby bag around unnecessarily. It's such a rare treat to head out the door with a normal handbag and just the bare essentials.
Grrr… Where is my phone?!
I tip up the baby bag, emptying the entire contents on the floor…
Much to baby Alice's delight. One of her favourites past times is emptying anything within reach; bags, drawers, baskets of toys.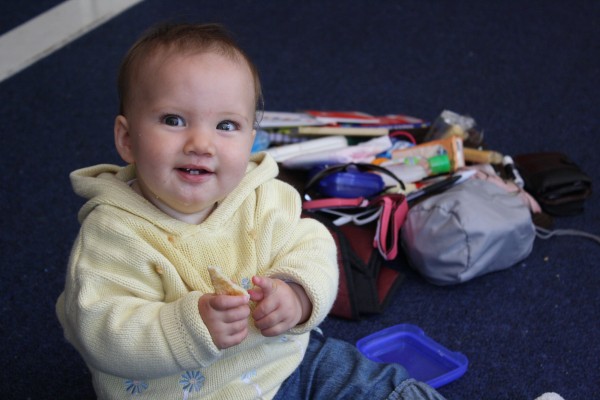 Ah! There it is! With all my essentials gathered together I reach for my lighter handbag and dump them in. No time to tidy up the pile on the floor. I race out the door, muttering apologies to my friend and cursing myself for being such a disorganized mother.
Once at the cafe with my big girl I reach for my purse; it's covered in the remnants of a half eaten baby rusk. I cringe as the waiter watches me take out my bank card, whilst simultaneously wiping the rusk off my purse. Not very stylish.
The sun glares in through the cafe window and I reach for my sunglasses, thankful to have remembered them. I hurry to put them on. Sleep deprived eyes don't fare well in bright light. I can't see anything! They are covered in greasy smears from a rogue baby wipe.
Sigh!
Then comes the wonderful e-mail from the lovely people at Borne Naked to answer my style prayers…
'Would you like to take part in a handbag makeover challenge? The Borne Naked Liner will become your secret weapon to staying stylishly organized.'
So I say, 'Yes please!'
I had already read some rave reviews via bloggers on Kiwi Mummy Blogs (check them out to be in to win your own liner!) and was ever so grateful to be invited to take part.
This arrived on my doorstep a few days later… Which my eldest daughter very carefully unwrapped.
There wasn't just one liner, but two! Yippee, a giveaway!
Leaving one liner lovingly wrapped in pink tissue paper, my daughter and I opened the other one.
Beautiful!
Baby Alice was quick to test its baby proofness and gave it a good maul and chew. Argh! I I couldn't bear to watch, but for the purpose of being thorough and honest I did manage to take a photograph. I am delighted to report no damage was done to the precious liner (or the baby).
Before she could inflict any damage on my iPhone and other essentials I quickly stored them in the liner and zipped them up. Here's hoping by the time she learns how to unzip she's also learned the meaning of 'No' and is well past the mouthing everything in sight stage!
Ta da… Zipped up safe and sound!
Here is my newly organized big mama bag, with my essentials safely stored in the liner, free from rogue rusks and baby wipes:
And when I need to dash out for a baby free moment, I simply take out the liner and pop it in a much smaller, more stylish bag.
No more scrambling around.
There! Looking good! Now, if I could just manage to get out the door without baby mess on my shirt and gleaming hair like all those models in the shampoo adverts I would be a style diva! I guess I should just stick to baby steps for now.
Stylishly organized I now am, but unfortunately the rusk on the shoulder loses me a few style points!
GIVEAWAY!
If you would like to be in with a chance to WIN a medium sized liner simply leave a comment below (and let me know what is the strangest thing you've ever found in your bag). Leave a separate comment if you tweet and if you Facebook this post. I will use Random Number Generator to pick the winner on 3 November.