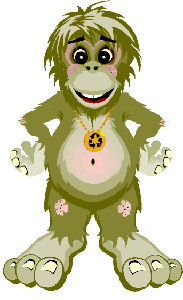 Credit: Te Papa
This was the question we were met with in Te Papa at the Nature Discovery Centre's new interactive 'toy'. Standing on monster-size, interactive, footprints we answered the questions as honestly as possible. The footprints respond to the answers, with green for good ecological behaviour and red for bad. With the wisdom of years I knew which answers were going to turn the footprints green, but if we answered truthfully I knew we were going to get somewhat orange feet. For the purpose of our of first run I told Charlotte to select all the options that would guarantee green feet, but felt an inward heat of shame that we weren't living up to our responses. I wondered if Charlotte would notice. She did.
Composting
Charlotte: 'Mummy, we don't put all our food scrapes in the compost bin!'
Energy Savings
Mummy (in defensive retaliation): 'Charlotte, do you shut your bedroom door to minimize heat loss? Do we switch off all our electrical gadgets at the wall when we're not using them?'
Water Savings
Charlotte: 'Mummy, what does it mean by 4-minute showers?'
Mummy thinks longingly of her once every other day ritual – a long, 20-minute, shower and pamper session.
Mummy: 'Well, Charlotte, you know how we have a bath most evenings? A 4-minute shower uses only one third of the water we use in the bath.'
Charlotte: 'Oh good, Mummy. I don't need to worry about getting clean as much. I like being dirty. Charli hates washing her hair!'
Waste packaging and plastic bags:
Charlotte: 'Mummy, I am good at turning down bags in shops.'
Mummy: 'Yes, you are love' (when it suits you and depending on what the bag on offer looks like). Mummy thinks of those canvas bags in the bottom drawer and makes a mental note to carry them on her person at all times – along with nappies, changes of clothing (really ought to stop using disposables – shocking), food, water in a reusable bottle for both children, purse, sunglasses, tissues, medical-kit, mobile phone, any room for a lipstick?
The Future at Chez Lee:
– We are now endeavouring to put all food scrapes in the compost bin, along with shredded newspapers.
– Canvas bags are now in the boot of the car for impromptu shopping trips (must remember to take them out of the car).
– Not filling the bath as full (Sophie loves her baths), Charlotte hasn't washed since our visit (three day's ago).
– Making an effort to turn off appliances at the wall.
– Walking to Kindi more often and not taking unnecessary car trips to the dairy for chocolate.
– Minimizing packaging in lunch boxes and making more thoughtful purchases in the weekly shop.
– Using quality reuseable water bottles (see brilliant post on this subject from 'In the trenches of motherhood' blogger).
Worm farm: a work in progress (waiting for Charlotte to own responsibility for this one!).