What a magic weekend! Our good friend's, Marrisa and Michael, organised the best Birthday Party for their daughter Bethany. It was at our favourite place, Te Papa, with a wonderful 'under the sea' theme. Afterwards there was a lovely Birthday lunch, balloons and cake.
The Christmas trees in Te Papa's foyer were gorgeous – three themed tree's: Scottish; Pacific; and Whales. It's really beautiful to see the trees around town with themes linked to the Southern Hemisphere – paua shells and flip-flops (jandals!); dolphins and whales; native birds and native blossoms of the Pohutukawa tree. My favourite tree I've seen is one made entirely of drift-wood – totally summing up a Kiwi Christmas.
In the afternoon we enjoyed chilling out in the sun at home. We didn't think we'd make the Carols by Candlelight at The Basin Reserve, as Sophie hadn't taken a nap, but 7pm came and the girls were still sparky so we thought, 'Let's go for it!'. It was a great family, friendly venue and the girls loved the music and space to run around. Dan and Charlotte even ventured into the 'mosh pit' (though there wasn't much 'moshing' – strictly a family affair!).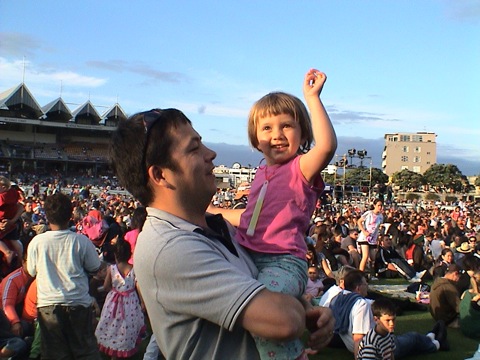 It was a beautiful sunny evening and fun to hear the lyrics of some classics adapted to suit the Southern Hemisphere. 'Let it snow, let it snow, let it snow,' was changed to, 'It won't snow, it won't snow, it won't snow….'.
The girls crashed to sleep by 9.30pm after all the fun and we continued our beautiful weekend on Sunday.
We took the girls up to the wave pool at Porirua and they had a blast. After a gorgeous lunch at Pataka we drove further up the coast to Lindale Farm, where the girls loved stroking a pony and feeding the goats. They really loved it and so did we – happy children, happy parents!