She left the breakfast dishes with guilty abandonement. She knew she had an hour, if she was lucky. She wasn't really dressed warm enough, but baby Alice was already strapped to her chest, so she grabbed a blanket and wrapped it snug around them both.
'Exercise and fresh air; both high on the list of important things for good health and happiness,' she said to herself, wondering irritably why she had to justify every action with a reason today.
'The cleaning can wait an hour,' her inner voice assured her.
She tapped random thoughts onto her iPhone as she walked, hoping to clear her head where the coffee had failed to take effect. Her ungloved fingers feeling numbed by the cool Antarctic air blowing gently today.
'You need this, you deserve this, you have to make the most of the fine days to keep you sane till the Spring,' her mind convinced her.
So she put her notes away and focused on the precious life nestled sleepily to her chest. She'd never taught any of her babies to sleep in a cot during the day as she had pathetically zero tolerance to crying. Front-pack, back-pack, buggy, car.
The waves rolling onto the shore kept her in step.
The snow capped mountains on the distant horizon, across the strait from Wellington, pulled her mind, with magnetic gravity, to a world of possibilities.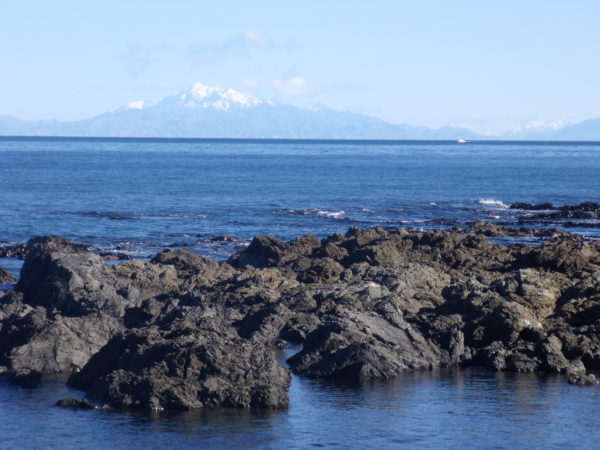 'Stop now. Enjoy the moment. Be grateful and try not to feel the walk inland, back up the valley to the house and the chores, is one of heavy steps. Go with a clear, thankful head and keep the beat of the sea in your heart as you work.' The inner voice had spoken. She listened and smiled.
______________________________________
And she got home, cleared the decks with a happy heart and went off to pick up Sophie from Kindi.
There was no immediate rush to get home. The sun had warmed the day a little. A couple of hours at Island Bay, collecting beach treasures to make a fairy garden was time well spent.