I've been having lots of fun making heaps of noise. Drumming with chop sticks, blowing whistles, singing and shouting so loud, noise should be my middle name!
I've been loving my food, loving my friends and loving life! I'm getting big and strong too, flexing my muscles on the beach lifting heavy buckets of sand.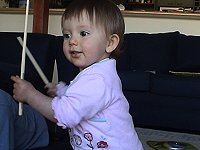 Mummy and Daddy are just about keeping pace and enjoying my babbling. One of my new words is 'Nemo' (as in the Clown Fish!) – I love Nemo! Other words I love to say at the moment are 'more' and 'bubbles' (those two words together I say lots and lots!). I'm into climbing everything as well (my Aunty Claire will be proud of me!) and give Mummy and Daddy plenty to worry about – tee, hee! I also love dancing and do a funny backward 'moon walk'.