As a good friend said at the weekend, 'Dan, you realise, you've bought a beer garden'. And with Spring sunshine warming the veins it was the perfect excuse to get the beer tap flowing and enjoy some good cheer with friends.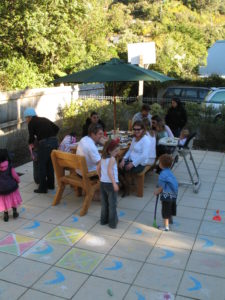 The children got high on bouncing, bubbles and balloons, whilst the adults enjoyed something a little more toxic!
Sophie enjoyed being Chief Barmaid and was easy to please with a tray full of burger and cucumber.
Good old 'Andy Pandy' and icecream was the perfect solution to calm several wired children (whilst the fellas enjoyed a game of darts in the garage and the ladies cleaned up and finished off their bubbly).
The day after the BBQ I took the girls to the Botanic Gardens to take in the scent of Spring (which was so heady that Sophie fell asleep). We enjoyed a lovely morning of feeding the ducks, riding on the cable car, running around in the playground, picnicing on the grass and collecting fallen petals (which are now forgotten about and rotting in a bag in the car!).