We didn't set a theme for Lyrical Sunday this week, but Charlotte and I did write a little poetry – in honour of our webbed footed friend who travels home to the sub-Antarctic tomorrow.
The Dominion Post and Wellington Zoo ran a poetry competition this week (read the winning entries here), dedicated to the Emperor Penguin that was washed up on Peka Peka Beach. Thanks to the amazing folk at 'The Nest' at Wellington Zoo, 'Happy Feet' (as he has become known) was rescued from the brink of death and is now well again to be released back into the wild.
On Monday 29 August, Dr Lisa Argilla of Wellington Zoo will depart Wellington on the NIWA research vessel Tangaroa. Approximately 4 days later Happy Feet will be released into the southern ocean.
This Sunday we headed along to Wellington Zoo to say Haere Ra to Happy Feet.
Sophie and Alice left a good-bye message, coloured in finger-puppet paper-penguins and enjoyed playing on the new play-area by the kiosk.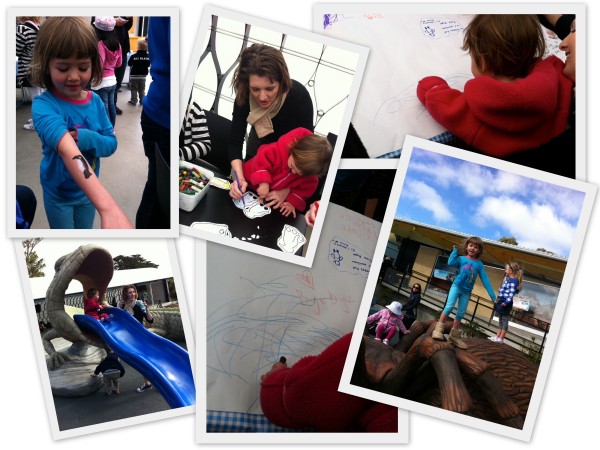 Here's our poems to bid him well…
Happy Feet
by Charlotte, Age 8
Happy Feet swam from far away,
To visit us for a holiday;
He ate sticks and sand,
And needed a helping hand,
To get him back home from his holiday.
From Ice to Sand and Back Again
by Sarah Lee
He came from a land of ice
to the land of the long white-cloud…
He swam so far to stand on sand,
at Peka Peka beach where he did land.
With dinner jacket on, he tried in vain,
to cool himself down, but he soon felt lame.
The good folk of Aotearoa,
and the kind people at Wellington Zoo,
took him to The Nest and knew what to do.
Away from the sticks and sand, he grew strong,
with a diet of fish and a home of ice.
His webbed footed friends sent a call to come home,
by way of a snow storm on Antarctic phone.
His happy feet tapped to the scent of home,
snow in the air and a wind whistling moan.
Kia kaha dear friend, steer clear of sand,
and swim well to your home of icy white land.
x
If you'd like to link up with a Happy Feet poem, please join in below…