After a lazy Saturday morning and a Skype call to the UK with Charlotte trying to teach her Grandparents 'Heads, Shoulders, Knees and Toes' in Maori, we headed out for some exercise at Zealandia.
We were delighted to see this handsome 'ole chap showing off his feathers.  His lady friend was no where to be seen; no doubt found a comfy patch of grass to feast on for morning tea (they eat a lot of grass, so I am told).
The new couple on the block are getting on in years. At the grand 'ole age of eleven they have left their old stomping ground on Mana Island to a younger couple. Zealandia is delighted to welcome this lovely takahÄ" couple in their retirement years.
Once thought to be extinct, takahē were rediscovered in 1948 in a remote Fiordland valley. Thanks to an intensive programme of captive breeding, translocations, stoat control and deer culling spearheaded by the Department of Conservation, the takahē population has seen a gradual increase from a low of 112 birds in 1981 to the current population of 225 birds.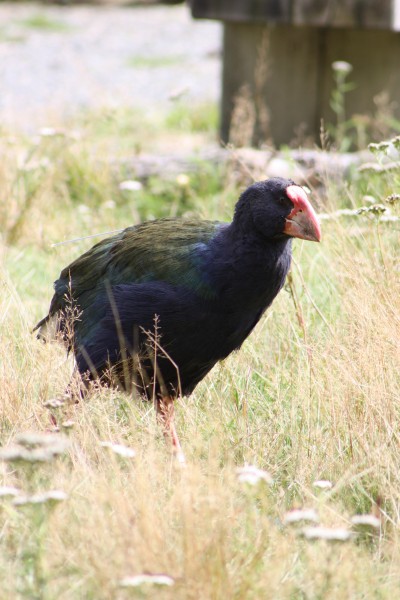 We all felt very honoured to see this plumped up chap at such close quarters.
We also saw a baby Tuatara – these reptiles from the dinosaur days always amaze me. And they outlive most humans – living over 100 years!
And the cheeky 'Kaka' (North Island parrot) were proudly showing off their red feathers too (and giving Sophie some competition as to 'who could be the loudest'!).
Sophie did manage to be quiet occasionally – and we took it in turns to stride out one-on-one with her. I started off the morning with just sleeping Alice in the buggy, before meeting up with Dan, Charlotte and Sophie at the Kaka feeding station. As Sophie strode towards me ahead of Dan and Charlotte, with a fierce look on her face and arms pumping, I quickly gauged that it was time for a 'mix' around of personalities 🙂
So Dan and Charlotte took the steep track to the top of the dam, whilst Sophie walked with me and Alice along the longer, meandering route, which was buggy friendly.
Overall we had a great morning (with a few negotiations!) and managed to enjoy the stunning scenery and flourishing wildlife.
Alice conked out for another nap in the car on the way home, so I took her in and had a nap myself. Despite her chicken pox (and four molars cutting through!) she is all smiles (just quite restless tossing and turning every 20 minutes or so at night… but a pat on the back, shh, shh, quick comfort feed and cuddle and she is happy sleeping again).
I didn't get the best night's sleep, but then hearing about the devastating news of the 8.9 earthquake and tsunami in Japan made me feel extremely grateful to have a warm home and bed to sleep in.
We mentioned the news to the girls, as they'll no doubt here about it soon, but we didn't want to say too much and cause them sleepless nights. Charlotte's theme of 'Earth' for Lyrical Sunday tomorrow couldn't be more apt.
___________________________________________
This afternoon, Dan took Sophie to burn off more energy at the crazy golf course that really is crazy… at 'Carlucciland'.
Then in the early evening it was Charlotte's turn for some special one-on-one time with her Daddy. He'd promised to take her to Strawberry Fare (she's never been before). I begrudgingly watched them leave, whilst settling Alice to sleep and winding Sophie down for the night.
He really didn't need to text me with this photograph…
OR THIS…
Still, I am glad they had a special time together (and brought me and Sophie some left-overs; woof, woof!).
I'll just have to leave him with his three crazy girls for an hour tomorrow morning whilst I go for a run (to really make him feel guilty at consuming that lot!).
But I suspect I'll sneak in a Cadbury Creme Easter Egg after my run 😉
I hope the takahe couple at Zealandia are sleeping peacefully this evening and enjoying having plenty of grass to chomp on with little competition. Who knows – they might even have a couple of chicks in the making! Now that would be a very happy ending x