Lose not the feeling, of courting romance,
When hearts pounded, with yearning, in our chests.
We led each other on a merry dance,
And teased ourselves playing cat and mouse jests.
We vowed to always take one another back,
That night, long ago, at the Uni Ball.
Our eyes met and we glossed over the cracks,
Filling them with passion, till they grew small.
But dramas of our youthful days, still take –
my breath away. Memories keep us strong,
when mists threaten, to envelop the lake –
that holds our love deep, & recalls our song.
And now, when our lives are busy, with children & chores,
Romance hides everywhere, even in drawers.
© Sarah Lee, 2011
____________________________________________________
We met one night at a college dance
Some say it was a meeting by chance
My Liverpool beau came into view
He said those words "Can I dance with you?"
Young love is a journey that tests the heart
We felt it hard to be apart
Forty years ago we wed
Our vows before family and friends we said
Today we see, like boughs of a tree
Our love grows more and more
Grandparents now and our loves broken free
The new generation's branches to see.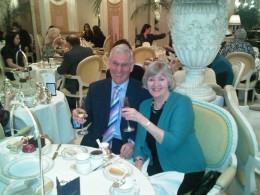 © Celia Aspinall, 2011
____________________________________________________
Now it's your turn! Link up below with your 'Romance' themed sonnet for week 17 of Lyrical Sunday. If you're new to 'Lyrical Sunday', please click on the badge below to find out how this began and how to join in.
The 'Linky' will remain open all week.